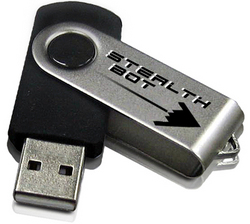 One of the oldest uses for social networks has been to meet and hopefully find a mate. This is great for single people, however, it's also created a convenient way to test the waters for those that may be on the fence. Apparently, there is gadget called the Stealth iBot that is being used to spy on the internet use of significant others.
I'm sure when BrickHouse Security created this device, they probably had parents in mind, who wanted to monitor their children's use and law enforcement agencies. According to the company, they've received a spike in sales from insecure or curious mates. The company reported that they received even more of a spike in sales in the days leading up to Valentine's Day, a whopping 242% increase. What does that say about the times we are living in, huh?
The Stealth iBot logs all computer activity including Facebook interactions. For more information on this gadget or to purchase one, visit
http://www.brickhousesecurity.com/pc-computer-spy.html.
Disclaimer from BrickHouse Security CEO Todd Morris, "We're pleased to aid so many people with our products. At the same time, we encourage our customers to show good judgment and to use them responsibly."